MassiveEVs Workshop
Thursday, October 28, 2021
,
8:00 AM
to
Friday, October 29, 2021
,
5:00 PM CEST
Category: Workshops
---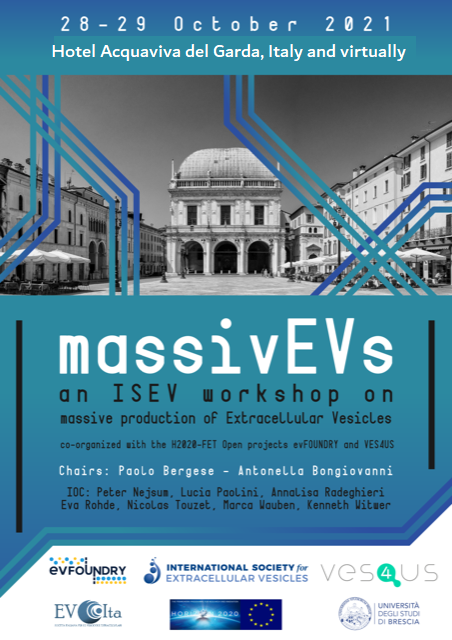 massivEVs - an ISEV workshop on massive production of EVs
Co-organized with the FETopen projects evFOUNDRY and VES4US

When: 28th-29th October 2021
Where:
Hotel Acquaviva del Garda , Desenzano del Garda, Italy and virtually
Application & Abstract submission are now open and close on June 1st 2021
This workshop will be free for accepted applicants, and limited to 50 attendees.
Goals and Scientific Program
The goal of the workshop is to address and channel the efforts towards large scale EV production and manufacturing. Themes ranging from the underpinning science and technology of equipment and processes to good manufacturing practices (GMPs) and requirements will be featured.
International Organizing Committee (IOC)
Co-Chairs: Paolo Bergese (Coordinator evFOUNDRY), and Antonella Bongiovanni (Coordinator VES4US) 
Marca Wauben (ISEV board member, PI evFOUNDRY), Nicolas Touzet (PI VES4US), Peter Nejsum (PI evFOUNDRY), Annalisa Radeghieri (ESR evFOUNDRY, local organizer Brescia), Lucia Paolini (ESR evFOUNDRY, local organizer Brescia), Kenneth Witwer (ISEV board member, Executive Chair of Science and Meetings), and Eva Rohde (member of the ISEV task force on regulatory affairs)
Thank you to our sponsors!
---